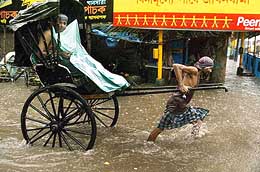 In recent times,the citizens of

Kolkata

have gone through a clearly visible change of unprecedented atmospheric behaviour...the weather board has also acknowledged that

Kolkata

is receiving late monsoon and short winter...the demon of global warming (alas!) too has struck our dear
city ! Well... for years the

Kolkatans

are experiencing hot and humid summers with crowds of perspiring foreheads,glasses of

aampora

shorbot

(green mango juice),scent of

khus

-

khus

and of course,the regular heat-buster every evening; the lashing

Northwester

winds which would cool down the daytime heat-wave...but we were missing our dear

kaal

-

boishakhi

(yeah ! that's the name we call it by) very badly this time.In a quite unprecedented way,the summer of '06 has been very dry (it draws an immediate parallel to the extreme summer of Delhi,with severe heat waves) which rather added to our woe...it was really a strangling struggle with Mother nature I must say !
But ah-ha ! goodness gracious...much to the relief of

Kolkatans

...the

Northwester

has

striked

back and what a soothing experience it has been ! Last week there were hints of a thunderstorm taking place but apart from a few gusty blow and droplets of h2o...all was there were anticipations ! Finally,yesterday the kingdoms of heaven were so pleased with the City of Joy that it sent a mighty bolt from up above and voila! the next twenty-four hours there would be incessant raining...quenching the thirst of flora and fauna,rejuvenating our mind, drenching us with the rain of life...singing the

malhaar

raag

of upcoming monsoon
"Rain on the roof-top,and rain on the sea...
Rain on those

li'l

cars...and certainly upon me...!"
I am so happy that the scorching summer would soon take its leave...at the same time I feel bad about those who live in shanties,lead poorly clad,poorly fed,poorly dreamt lives in thatched huts and can anytime be snatched away of their shelters by the mighty blows of windstorm...I can fantasize about the deadly charm of the storm,I can even write a poetry about it...but can I really feel like those helpless people who would be at our doors for nibbles of food,grains of rice and clothes soon after a horrible thunderstorm devastates their "insignificant" existence...? Can I really be one of them
I know I may lack the guts to endure the pangs of being homeless but one thing I can promise to myself...the Northwester might show them the wrecks of nature...but to my humble best,I can try to bring to them a piece of rainbow(in every sense it could be )after the thunder-showers cease creating havoc...as a human being,would that be much to ask from my self within ???